the pope, goober grape and i...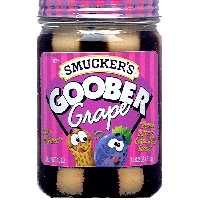 I had a weird dream about the
recently-deceased Pope
last night. I blame all the news coverage, of course.
But in my dream, I was sitting at my elementary school lunch table with the Pope and his assistant (aka mainly a guy in whose ear the Pope whispered to make proclamations and stuff). I guess they were my lunch buddies. I don't know.
I just remember sitting there and watching the Pope's assistant make his boss a PB&J sandwich. But not just any PB&J. No. A PB&J made with that crap-ass Goober Grape swirl stuff.
"Would you like a Goober Grape sandwich," the assistant asked me as he intently spread that crap all over the Pope's multigrain bread.
"No thanks. I have my Spaghetti O's," I said politely.
The Pope cringed and bent over to whisper in his assistant's ear. The assistant then looked at me and said, "But those who follow Jesus eat Goober Grape."
I sighed. I looked at the Pope, looked at the Goober Grape and then back at the Pope again.
"Then I guess I quit Jesus."
I got up from the table and left.