today's obvious lesson about coaxial cables...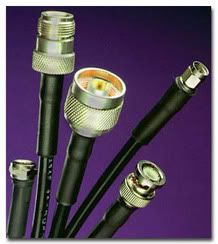 I just got in from the 99 cents store. I was there buying a cheap-ass
coaxial cable
in order to watch
Dodgers
Opening Day. This conversation occurred at the checkout:
Old Man: "So, what kind of dog do you have?"
Me: "Excuse me?"
Old Man: (pointing at the coaxial cable) "Dog. What kind do you have?"
Me: "Ohhhh...this isn't a leash. It's a coaxial cable. That'd probably get me in some major trouble."
Old Man: "Oh yeah. Right."
*
In conclusion, this guy was obviously insane. Is he hooking up his cable with his dog's leash? If you see a PO'ed old guy walking his dog with a coaxial cable, please call the proper authorities.
*
Go Dodgers!!