imaginary girlfriends...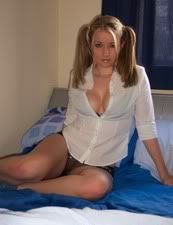 Just when I thought that
my friend Cory
would never find a girlfriend, the Internet goes and
pulls a stunt like this
. And TOTALLY REDEEMS ITSELF!!
I can barely juggle all of my real girlfriends as it is. Now I'm expected to add a
plethora
of fake ones, too. GAWD.
Most people would just look at this site and think, "Man. How desperate does one guy have to get?" I look at it and immediately think
$$$ opportunity
!!
Digging within the site, you find these nuggets of interest:
Your photos are wanted! We are seeking to purchase your photos for use with our Imaginary Girlfriend service. The term "model" is used loosely because what we are really seeking are everyday pictures of "girlfriends", rather than professional photographs of professional models. Photos can be in any setting or surrounding as long as they are of good quality, and would be similar to what a new girlfriend would give to her long distance boyfriend. Women of any shape, size or color are wanted.
Hmmmm...and then there is this:
5PM Interactive and ImaginaryGirlfriends.com are seeking creative, fun-loving women to join us! If you're over 18, love to write and welcome the opportunity to earn extra cash, consider joining our site as an Imaginary Girlfriend.

All ages, races, shapes, sizes and manner of personal tastes are welcome. Whether you're naughty or nice, love romance or adventure, there's sure to be someone who would love to have you as an Imaginary Girlfriend.
Soooo...would it be cheating if, say, I was someone's imaginary girlfriend? Okay. This is too Dr. Phil. It's hurting my brain.
Current frontrunner for Ms. Cory----
Amy McHappyface
.
(Link via
the Thighmaster
)