pleading the MILF case...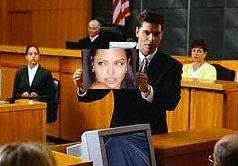 Happy MILF Day everyone!!!!
Let's peruse my imaginary magazine's
10 Hottest MILF's List
:
10. Britney Spears
9. Catherine Zeta Jones
8. Jessica Alba's mom
7. Teri Hatcher
6. Shania Twain
5. Elizabeth Hurley
4. Kate Beckinsale
3. Heather Locklear
2. Pamela Anderson
1. Angelina Jolie
I like the strength of that list. I think if we gathered them all in a room together, the MILFocity would be extremely strong. Which is good. I actually had Kate Moss in there somewhere for a little bit. But I still don't believe she actually had her baby. I think she carried it for the first trimester and then regurgitated it into a Supermodel Garden of some kind, where it was carefully watered and looked after by older retired supermodels with the time for such time-consuming duties.
In honor of this wondrous day o' days, I have also written 2 original MILF haikus. I hope that you enjoy them:
You are a great mom
Let's spend time doing cool stuff
Like trampoline sex
You make great waffles
You know what's also awesome?
Making hot babies