let topanga eat cake...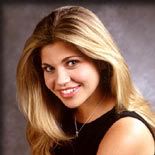 Happy Birthday
Topangacakes
!!
I will always remember that time we "shared a moment." Actually, I just said, "Hey, want a beer?" And you said, "Sure." But the way you said it was extremely hot. And it made me want to pick your small ass up and put you in my pocket. Then, last year, at about this time, I learned the cold hard truth:
i have some more upsetting news. apparently, there is a 95% chance that topanga is fat. she was PHAT ("pretty hot and tempting"). but now = fat.

to combat those who cry foul at me mocking her now chubby cheeks, i say simply, shut up. i have chubby cheeks. so there. topanga was one of my first loves. once clarissa got tired of explaining, topanga's show "boy meets world" took over that certain, once-thought-untouchable place in my heart. and she also made my happy parts more happy.

so once i first moved to LA, i asked my friends, "have you seen topanga yet?"
coincidentally, they had been at a LA dive bar where she was throwing her b-day party. and....they said, it's possible she had eaten half the cake. or possibly her boyfriend corey. "so you're saying if topanga went hiking in topanga canyon, she'd get stuck?? nods all around. then, a year later? another topanga sighting. this time by me. at a halloween costume party. she was dressed, ironically, as topanga and she was friggin' cheating on corey with some dweeb.
but, she was thin. svelte even. so me? = happy.

FAST FORWARD TO A WEEK AGO...an informant clued me in that topanga has fallen off the wagon. or perhaps broken it? i can't remember. so...if you see her, grab your double double and run.