batman is extremely phat, man...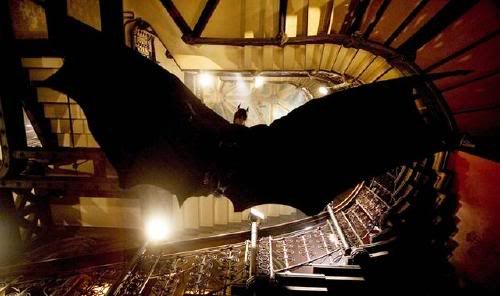 Maybe it's the fact that I've been working late nights and not getting enough sleep. Maybe it's the fact that I still remember going to see the first
Batman
on my 9th birthday and instantly wanting Converses with the Bat symbol on them (Shut up. They were cool.) Maybe it's the fact that I just drank about a gallon of Mountain Dew.
But
Batman Begins
was off the freakin' chain.
Holy everlasting gobstoppers. Looking back, it's probably best that I went to see it alone. Because about 10 minutes in, something unbelievably cool happened on the screen and I turned to the 40-ish stranger lady next to me and gave her the "oh holy shit that was awesome face." I'm certain there were also audible exclamations. So to her, I am sorry. But when you're in your mid-20's, you're really nostalgic about those movies that influenced you to beat up your little brother or throw him off the roof as a kid. You wanted dudes terminating things. You wanted aliens popping out of people's chests. You wanted Stallone arm-wrestling for his son's love. This movie is one of those movies. It's dark, it's scary and it's got dudes wearing tater-sack masks and driving pimped-out cars on rooftops!!!
There's really no need to give a review. It was just
awesome
. Everyone and everything was kickass. Christian Bale, Michael Caine, Cillian Murphy, Liam Neeson,
my partner-in-CD-burning-crime
Morgan Freeman, even Katie Holmes...they all deserve special superhero movie Oscars. It was one of those movies that you come out of and you just want to hunt down some bad guys and punch them right in the mouth. I was shadowboxing the automatic paper-towel dispenser in the bathroom on the way out. You know, take that, lazy papertowel needing people!! It was geeky but I didn't care. Sometimes you just got to freak out every single dude in the Grove bathroom to get your rocks off.
Batman Begins
= A
Related:
Even Jeffery Wells, who seemingly hates everything, loved it
Roger Ebert gives it four stars straight up