dr phil's son ruins my foursome dream...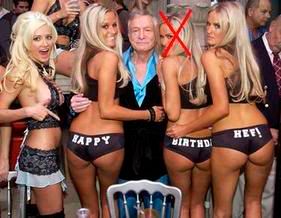 Back in 1998, I was a college freshman with a dream. And that dream was to someday marry all of the
Dahm triplets
. Erica, Jaclyn, Nicole and I...together forever. We would have bought one of those quadruple bikes and rode down the Santa Monica beach sidewalks eating ice cream and talking about our favorite "Young & The Restless" episodes. We would have spent late nights discussing politics, the environment and the trade relations between the U.S. and the countries of the Pacific Rim. We would have home-schooled all twelve of our daughters and started the most popular Sea World show of all time, entitled
Hot Chicks, Their Moms & Some Seals
. It would have been no ordinary love, Sade-style. And it would have been perfect.
But then Dr. Phil's son had to go out of his way with his piercing blue eyes
AND SCREW IT ALL UP
!!!!! Today's news:
The son of TV psychologist Dr. Phil has proposed to former Playboy playmate Erica Dahm, one of the triplet Dahm sisters.

Jay McGraw, 26, got engaged to Dahm in Dallas, Chandler Hayes, a spokesman for Dr. Phil McGraw, said Monday.
I feel like a part of me(yes, maybe the immature college part) has just died. I bet someone has a Polaroid picture of me somewhere and I'm disappearing, like in
Back To the Future
. If I knew how to play the guitar like Marty McFly, I'd do the same thing and go back to the exact moment when Dr. Phil Jr. and Dahm #2 met and just start rockin' and rollin' in a hope to distract them from falling in love. Or maybe I'd just beat him over the head with the guitar and run. Depends on the location and if I could flee at the top speed of 88 mph, I guess. Someone should really loan me their Delorean. Please. Don't deny me my dream.