kelly osbourne reminds me of penguins...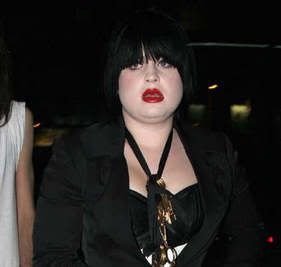 This photo reminds me of
March of the Penguins
. If you haven't seen it, there's a scene in which the baby penguins hatch and they first notice they're a baby penguin. So they tilt their tiny penguin heads up towards the sky and see their Penguin Dads, who have been hanging out with the egg. And they're like, word, give me some fishy goo so I can go play with all my penguin friends. But Dad doesn't allow this because the penguins are still too frail for the harsh Antarctica winds. So they wait, all penguin-like. But then Mom Penguin comes back from her long journey for food and feeds Dad and Baby Penguin. And Baby Penguin becomes really fat and rolls around on the snow with reckless abandon. But he's not truly happy. So he leaves his parents behind, moves to Hollywood, doesn't go out in the sun, gets a horrible bowl haircut and starts wearing all black outfits, which make his skin seem more pale than it actually is. But every so often, he remembers being a real penguin and makes a face.
This face
.