i think that i broke my new tivo...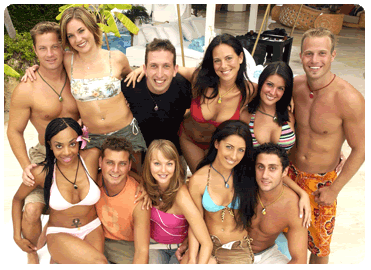 I think I signed up for too many Season Passes. Is that wrong? I kept looking for some kind of number that I could limit myself to in the Tivo booklet. But it wasn't there. So I just started signing up willy nilly similar to when you were a third-grader on Valentine's Day and everyone in your class got a card. Even if you hated them. That's what I did. And it was the
wrong choice.
Top of my Season Pass list is the re-packaged episodes of "
Paradise Hotel
," my favorite reality TV show of all time. If you don't understand what I am talking about, please, just give it a chance. It's like "Big Brother" but in a much prettier location, alcohol is mixed in and all the girls are in bikinis. And it's got Toni (of "Love Cruise" and now "Kill Reality" fame), who is literally insane and once yelled at me for not drinking a margarita fast enough. In my defense, it was made with too much mix.
The rest of my list is occupied by the usual suspects: "Family Guy," "The Simpsons," "The Daily Show," "Pardon the Interruption," etc. But then I evidently started to get high with power and continued picking shows just because they had a cool title. Looking back, I think that was wrong because I have about forty hours of TV to watch after two days and Tivo keeps recommending Scooby Doo reruns and shows from the Jesus Network. Note to everyone: don't Wishlist Jesus. He's so omnipresent he will break your Tivo.
p.s. If there's a secret Tivo handshake or any inside secrets, please inform me. I admit that I've been out of the loop. But I'm now in the loop standing inside ready for loop-like things to happen.