david charvet is picky when it comes to chewing gum...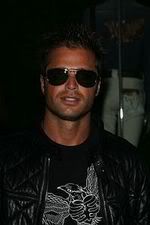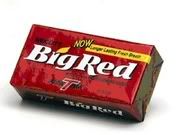 So, once one lives in Hollywood for a long enough period, they start to amass certain weird celebrity stories. Sure, you might see Paris and Lindsay at some club, but who hasn't?? I cherish the "other stories.". Like the one time I was waiting at Rite-Aid at Fairfax and Sunset for Vicodin after getting my wisdom teeth pulled and had a convo with Jerry Stiller (Ben Stiller's real dad & George Constanza's TV dad) about how it's always weird to just buy condoms (and only condoms) at a drug store. Somehow, I feel that you have to take something else up to the counter too, like a Coke or a water gun. Anything just to make it seem like, just maybe, you had come only for the Coke or water gun and decided to buy some condoms as well, for safety's sake.
After hearing that David Charvet had dropped by at some party for something or other last week, I got to tell another one of those "other stories" to a relatively new friend of mine. And this story occurred around the time I first moved to L.A. It's the
David Charvet Chewing Gum Story
. It goes as follows:
Being relatively new to the area at the time, I was ready and willing for those big celebrity sightings. But one day while waiting in checkout at Rite Aid (the place is a celeb mecca), I ran into Mr. "Baywatch" himself, David Charvet. For those non-"Baywatch" viewers, he was the guy that got to do most of the "base-running" with Pamela Anderson's character, C.J. Parker. Sadly, besides a short stint on "Melrose Place," he's done a whole bunch of nothing since. But, at the time, it didn't matter. I was fresh and new to L.A. and all celebrity sightings were A-list to me.
So, there I was. Standing behind Charvet in the checkout line at Rite-Aid when I noticed that he had three of those smaller 25 cent Big Red packages in his hand. Usually I wouldn't think anything of it, but this was DAVID FRIGGIN CHARVET. He surely could afford the bigger muli-pack of Big Red. It might be a couple cents more, but hey, you get 2 more extra sticks. And those 2 sticks could come in handy if you're David Charvet and making out with an average of 15 hot supermodels a day. Right? So I sprung into action and tapped Charvet on the shoulder:
"You know, the bigger pack has 2 more sticks."
"Oh really? Hmmm."
And that was all he said. He didn't even give my
inside tip
much thought. It was almost as if it was a joke for him to save some money and get more chewing gum. He turned back around, paid and rode off into the sunset. And up until this day, I still haven't forgotten that meeting. Everytime the name David Charvet comes up in conversation (aka not very often), I instantly mutter out like
Rain Man
, "Dude's picky about chewing gum." And, for some reason, that makes me extremely happy.
THE END