jessica alba, eva longoria and eva mendes meet and discuss how good looking they are (aka my new desktop)...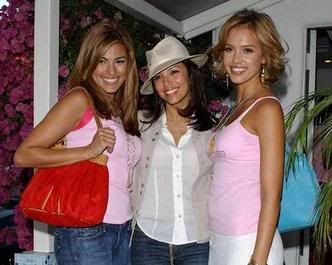 This picture was taken a day before
Eva-Pole 2005
. I'd like to think that the hat she's wearing is what saved her life and career from that malicious pole. And since everything I say is truth, it is. That is the hat.
In the future, I think these three young ladies should never be allowed in the same place at the same time. For the sake of mankind. That means if Eva L. and Eva M. are hanging out at the Tropicana Bar, Jessica Alba should be holed up in a Hottie Bunker. And when I say Hottie Bunker, I mean my apartment. And when I say apartment, I mean my couch.*
*It's a loveseat, actually. But whatever. We'll hang out.