whatever you do, don't watch the brown bunny with your grandmother...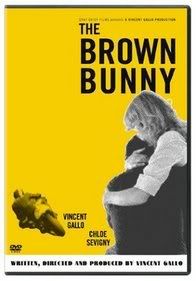 (SPOILERS AHEAD)
Movie watching with grandmothers is supposed to be a special time. Heartwarming and jolly ole fun, you know? So when you pop in
The Brown Bunny
, Grandma will surely be, "Ahh, motorcyles. I like motorcycles." And then the scene will go on and on and on. And you'll be thinking to yourself, is this movie going to be 90 minutes of motorcycles? And then it will finally stop. And then Vincent Gallo will start driving and Grandma will stop eating her chocolate covered cherries long enough to say, "Mmmm, driving. Your grandfather and I use to love driving." And you'll nod and think, cool, road trip movies kinda rock. I hope she enjoys it. This might be the last movie she ever sees. She's really old, you think to yourself. But she falls asleep. Because Gallo keeps driving. He drives everywhere. Is this entire movie about driving?? The Netflix blurb didn't say
that
. And then, while Grandma is asleep and snoring, he'll continue driving. He'll go to a gas station, a rest stop, a pet store, some old woman's house with a bunny, the desert, Las Vegas and McDonald's. And it will be the most boring drawn-out crap you've ever seen. AND FINALLY, Gallo's character gets to a hotel and meets up with a girl and she starts giving him a real blowjob. With, like, tongue. So you'll be, like, huh but...wow. And you'll try and try and try to wake Grandma up because, well, something's finally happening. But she won't wake up. She's asleep. Or dead. Which means, if she wakes up, you'll probably have to explain what happened in the movie the next day. And it will be awkward. Entirely awkward. Because, since she didn't see all the other crap, the blowjob scene doesn't make sense. And that totally ruins the movie. For you
and
Grandma.
The Brown Bunny
= Boring, with or without grandmothers.