top 5 worst best friends from 80's teen movies...
(UPDATED)
Influenced by Alex Blagg's
great post
on 80's teen movie parties, I've been thinking about 80's movies a lot more than usual lately. And I've mainly been focusing on the "best friend characters." Or, more importantly, why all of them were total assholes!! By no means is this list exhaustive, but take a look: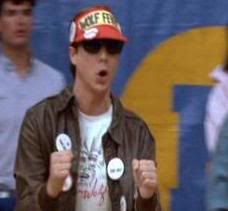 5b. Stiles, Teen Wolf (1985)
When you first meet Stiles in
Teen Wolf
, he seemed like the best friend you've always wanted but never had. He was all about surfing on top of vans and buying kegs and attending crazy insane parties where people made out in closets and fat guys ate jello out of girls' shirts. But once Michael J. Fox's character Scott started becoming all wolfie, he completely took a 180 turn towards Douchetown. He really didn't care about Scott and all the internal troubles he was going through. And, in my book, internal troubles
does
include having a female friend named Boof and an archnemisis who stands directly under the basketball goal when you shoot free throws. If I was Scott, I would have been stunned. Was Stiles there for him? Hell no. He was all about selling banners, buttons and t-shirts. What an ass! Stop asking me for my likeness for your damn Wolf lunchboxes so I can bang hot theater chicks and do 360 degree basketball dunks on people's heads, dude. Unbelievable.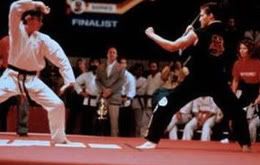 5a. Jewfro Dude/Terry Silver, Karate Kid I & III (1984 & 1989)
Besides Mr. Miyagi, Daniel LaRusso might have had the worst luck of finding friends in the world. In the first
Karate Kid
, he thought he had found a BFF in his apartment buddy with the Jewfro. They were all going to have fun at the beach, laugh, play and kick around a soccer ball. But after the confrontation with the Cobra Kai motorcycle club, he was suddenly friendless...again. Personally, I think it's pretty beat up that his new friends didn't warn him in advance that the motorcycle guys knew how to do round-kicks to the face. That should be grounds for a mulligan, friendship-wise. But that's just me. When I start fights, I always assume that the rules include no round-kicks. No ball shots and no round-kicks, actually. BUT THEN...in the third film, Daniel started looking for friends again and found Terry Silver, the guy that made him turn against Miyagi by punching a board all day until his hands bled. That, my friends, is not what friends do. That's most likely the "that" in what Meat Loaf wouldn't do for love as well. Don't ever ask me to do it either. Because I won't.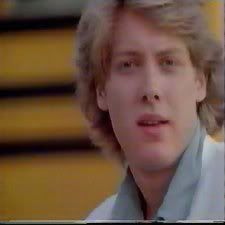 4. Steff, Pretty In Pink (1986)
Who in the hell would be friends with Steff from
Pretty In Pink
in the first place? What a dick. I can't even watch the promos for "Boston Legal" today because of this one James Spader role. I don't even think he went to class. He just stood around in the halls waiting to cockblock all his friends. He even followed Andrew McCarthy into
Mannequin
and started cockblocking him there too. In effect, if you're a friend of James Spader's in a movie, totally disregard the "bros before hos" rule. Everyone will understand. If I was McCarthy I would have grabbed the guy's ugly ass hushpuppies and started beating him over the head with 'em. Nice pink shirt, dick. Go back to Brooks Brothers and straighten the tie rack.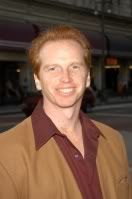 3. Kenneth Wurman, Can't Buy Me Love (1987)
Everyone's seen
Can't Buy Me Love
, right? Then everyone knows about the trials and tribulations of Ronald (Donald) Miller's best friend Kenneth Wurman. In short, Ronald "shit on his house." Yes. He and a bunch of football players took a dump in a bag and threw it at Kenneth's front door. Gross? Yes. Grounds for defriending in an extremely public way by crying and yelling "You shit on my house!" while in our favorite arcade? Nope. At least he didn't throw it through his window. Then he possibly wouldn't have realized it until the morning and it would have had time for the stink to penetrate the entire house. That would suck. That takes time and lots and lots of Glade plugins to get over. But just on the door??? Dude, just wipe off the door. Or throw it back at him. That's what I do when people throw shit at my house. It's fun.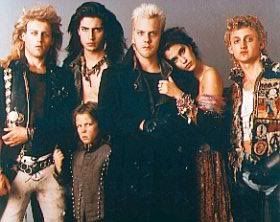 2. The Lost Boys, The Lost Boys (1987)
Holy crap!
The Lost Boys
were terrible best friends!! Every single one of them. That's why I've made it a rule to never be best friends with vampires. All they want to do is sleep all day and freakin' bite people all night. Dude, I want to party. And I want girls to like me. Not run away from me or die on me. That sucks. Don't even get me started on how Kiefer Sutherland's character made Michael race him on his motorcyle in the damn fog to some terrible 80's music. If I'm forced to race a vampire via motorcycle, I better be able to pick the song. It'll probably be "Danger Zone" by Kenny Loggins. And motorvamp will like it! And how about when Michael's "friends" bought him some Chinese food and after he started eating it, they told him it was worms! People get shot in the face in Los Angeles for less than that everyday! Ugh. That is so wrong. Worst best friends ever!!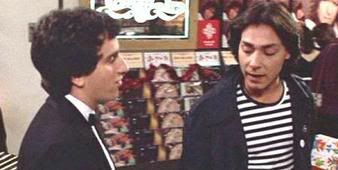 1.
Mike Damone, Fast Times At Ridgemont High (1982)
Here's the thing about Damone. Yes, he stole his best friend's girl. Yes, he got her pregnant in a poolhouse in a mere five seconds. Yes, he failed to drive her to the abortion clinic because he couldn't scrounge up the money from his faltering ticket-scalping side business. Yes, he's a gigantic douchebag best friend. But you know what? It could have been worse. He could have gotten her pregnant, married her and dumped her when his kid come out already looking like a five-year-old because of his rapidly aging genes. Face it: dude looked 90210-like old. And he wore "Where's Waldo" shirts. Anyway, why was Damone selling concert tickets when he could have been buying beer and wine coolers and selling them to high school kids at double the price? That's what the guy who looked like a 35-year-old at my high school did. Actually, he's still doing that. It's freakin' profitable, man. I wish I could have grown facial hair or something at that age. I'd be hittin' the streets right now instead of blogging about boring crap like this, I'll tell you that.