i don't think gwen stefani understands what "cool" even means...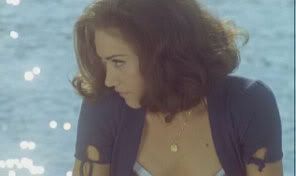 The more I hear Gwen Stefani's song "Cool" and the more I see her new music video for the same song, the more I think she doesn't really understand the true meaning of the word "cool."
I'm not this ex-boyfriend of hers (who I guess is the dude Tony in No Doubt), but I'm pretty sure he thinks they're "cool" by now. Hasn't she wrote at least two dozen songs about their relationship over the years? How many more is she going to have to write? Is that why the band took a break and she went solo? Did everything come to a head in non-cool ways?
"Tony, now I've got 50 more songs about how we're cool!!"
"No way. Serious?"
"Yes. Here, let me sing them all to you!! In alphabetical order!"
"I'm cool. No thanks. I think the band should take a break."
"TONY!! I DON'T THINK WE'RE COOL? ARE WE COOL?"
"Totally. 100% cool."
"Oh silly willy! I don't think that's quite enough. I want to prove to you that we're cool. So I'm going to do a entire solo album all about us being cool."
"Like a No Doubt album, but without us...really."
"Yeah. And then I'm going to pay a bunch of Japanese girls to tour the world with me. Everyone will think that they are for looks. But they're really there so I can have more people to talk to about how cool we are."
And then that's what she did. She wrote an entire album about them being "cool." And, frankly, I thought some of the songs on the album, even "Cool," were kinda "cool" in a 80's dance club kinda way. Then I heard them all three million times. And they started getting much less "cool." They're actually starting to piss me off a bit. I won't lie. Yes, you're a "Rich Girl." But you're kinda crazy. No doubt.
In conclusion, I don't think they're "cool." God, I hope so. But I think it's never going to end. And that...is sad. Because she's married. To that Bush guy. And I thought his band was "cool." Back when I was 13. Come on..."Machinehead?" Good song.