the war between christina and britney extends to ruining family members' hair...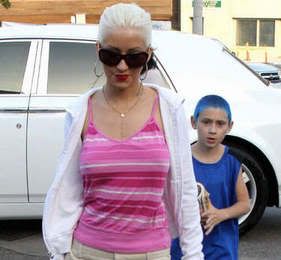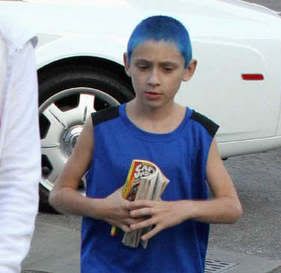 Do you think Christina Aguilera was sitting at home thinking, "I don't want to get pregnant just yet. What can I do to trump Britney in her trailer-trash-like craziness? I know! I'll force my little brother to dye his hair BLUE!"
"But I don't wanna dye my hair blue," he probably said.
"YOU WILL DYE YOUR HAIR BLUE!! AND YOU WILL LIKE IT!!!"
"But the paparazzi guys will laugh at me!!"
"LET THEM LAUGH!! I WILL NOT LOSE!! AND MAKE SURE YOU REMEMBER OUR RULE OF WALKING TWO TO THREE FEET BEHIND ME EVERYWHERE WE GO!! I DON'T WANT THE GOSSIP MAGS THINKING I'M DATING A LITTLE SMURF!!! (insert evil laugh here)
"That's not funny."
"IT IS FUNNY AND YOU WILL LIKE IT!!!"
Next logical step
: Britney goes pregnant ballistic. After
Chaotic
, we all know how crazy she can get. And that only means two words for her little sis, Jamie-Lynn:

Buzz Cut.
Tags:

Christina Aguilera
Britney Spears