must not love dogs...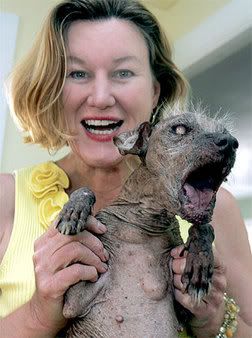 Everyone's seen that one photo of the world's ugliest dog. But this photo is much
much
worse. Maybe because I imagined the dog in a cage within a cage within a cage. And its owner would push food to it twice a day with a stick or something?? But
the LA Times story
this morning paints a entirely more frightening picture (Yes. Even more frightening then the actual picture above):
Lockheed, 53, enjoys massaging Sam's fleshy, thin, potato-chip ears and running her fingers through the small patches of white hair on his head.

She likes kissing Sam's hairless frame, littered with blackheads, brown warts and moles. Even his hindquarters have a large hernia lump.

Then there's his right eye, left a reddish-purple from cataracts, which stands out from the other, which is a milky white.

"I've never had a dog this much in love with me," Lockheed said. "I really baby Sam, and kiss him a lot. He's a toad [that's] going to turn into a prince."
If that's not an ad for the dangers of believing in fairy tales, I don't know what is. Miraculously, though you have to read to the end of the article to find out, this woman just got engaged. To a man. Wouldn't you have paid to see her in her own reality dating show? Kinda like
Hooking Up
but with a twist? A freakin' horrific devil-rat-looking twist? Or put her, Satan Dog and a bunch of dudes on an island? Now that would be
Survivor
! What would the over-under on deaths be if there was a volcano on the island?? Is it socially acceptable to eat yourself out of fear? Okay, really, that pic is freakin' me out.