if i was you, i wouldn't use a phone near russell crowe today...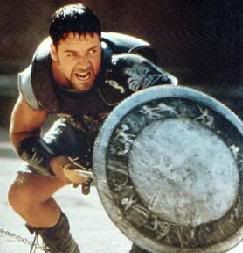 So, let me get this straight. Russell Crowe got mad, threw a phone at a hotel worker and now the guy's going to get $10.8 MILLION DOLLARS
in a out-of-court settlement
?? ARE YOU KIDDING ME??
Don't even look at the story. Here's the best part, concerning the new multi-millionaire phone target:
Estrada could not be reached for comment yesterday
.
Of course he couldn't. He's probably sitting on his newly bought island in the South Pacific, sipping a Mai Tai, watching
Gladiator
and laughing. Extremely hard. Hell, with that money, he could build a fortress of phones to protect him from Russell Crowe for years to come. If I was Crowe, I'd take a leave of absence from acting and make it my personal life plan to find this guy on this island and finish the job. Like a Mortal Kombat to the death but with phones. I'd use one of those gigantic old cellular phones from the late 80's/early 90's. That'd do the trick nicely. And Crowe probably wouldn't even get time in prison for killing Phoneguy. Because the new island wouldn't have any law enforcement yet. And Crowe could just say, "Dude, I knew you'd be here. Who else would build an island fortress solely out of phones?? Idiot. Let's duel."
BTW, don't be surprised to see me out on the streets of Los Angeles following paparazzi around with a couple phones in my hand. As soon as someone (say, Cameron Diaz) gets pissed again at their celebrity treatment, I'm putting a phone in her hand and saying, "Here, take out that frustration on me!! SERIOUSLY!! DO IT!! You can even hit me the face! COME ON! I just took a phonecam pic! NOW DO IT!!"