tom cruise's dark family tree secret...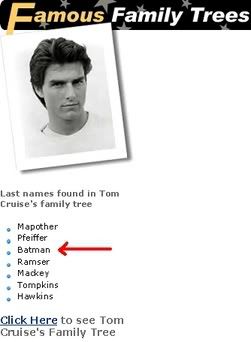 I'm
so
confused now.
Is Scientology really a "religion" that provides protection for superhero descendents? Does this mean Katie Holmes didn't get that job because of her acting ability? Wasn't Nicole Kidman in a
Batman
movie? Wait...if Maverick had superpowers, this means Goose didn't have to die!!! What an ass! And if Katie Holmes just played Batman's girlfriend in
Batman Begins
, kissing Tom Cruise is, in a roundabout way, like kissing his grandma!!! GROSS!!! Tom Cruise is CRAZY!!!
Also, Kevin Bacon was in
A Few Good Men
with Tom Cruise. And Tom Cruise is related to Batman. That's two degrees, guys. Bacon's practically half-superhero. I knew it. No regular human actor gets that many roles.
Tom Cruise's Family Tree [Ancestry.com]