jennifer love hewitt doesn't have hobbies...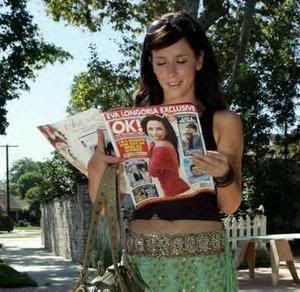 To catch everyone up to speed: Earth still revolving, Jennifer Love Hewitt's
Reading Rainbow Gossip Magazine World Tour
continues.
Taking a break from, um,
not
posing for awkwardly staged paparazzi photos, JLH is
still
hoping to find that one perfect "Celebrities Are Just Like Us" picture of herself reading a gossip magazine. Then, finally, she could look at a picture of herself looking at a picture of herself looking at a picture...of herself. Which would seemingly cause her to either spontaneously combust or give her the ability to communicate with Jennifer Love Hewitt (circa July 2005) in a freak
Frequency
-like warp of the space-time continuum. Or not. For all I know, she could be looking for a hidden sign from the Keymaster so that they can continue plans to scale a downtown L.A. skyscraper and turn into giant dogs. Face it. The return of Gozer would be sooooo much better than that "Ghost Whisperer" show she's got going on.