Ric Flair hates your parallel parking skills...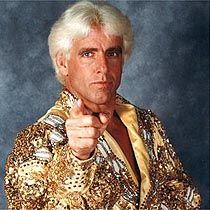 This story
of professional wrestler Ric Flair attempting to throat slam a man out of his Toyota vehicle before kicking it could only be cooler if he had slapped him a couple times and said "Woo!" afterwards.
I'm from North Carolina. So, of course, I have a few Flair stories. For those who don't know, he's a LEGEND in the South.
1. I remember attending a "wrasslin" match in high school in which Flair was the main headliner. At this point, if you were a fan, you had to squint your eyes a bit because his body was starting to get really old and droopy-looking. So much so that it became comical. One guy that was sitting two rows up from me at the event had his homemade sign (it was a televised fight) taken from him by security. What did it say? "Ric Flair Has Saggy Man Boobs." I thought it was funny.
2. I once had a run-in with an extremely intoxicated (and saggy) Flair at my school's top hole-in-the-wall biscuit establishment,
Time Out
. I was with friends and we were memerized by one of childhood idols who had stumbled in at 2 AM to get a chicken and cheese biscuit. Did we ask him questions, have him sign autographs or take pictures with him? No. We were college students so we hazed him by making him do the "Woo!" sound over and over again. He even started integrating a little "Woo! I LOVE BISCUITS!!" and "Woo! Eat em all the time!!" in there. Okay. Maybe you had to be there.