"Nip/Tuck" is starting to kick major ass...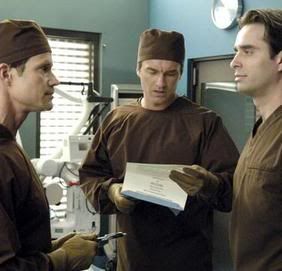 Holy crap. I know I was a day late on seeing the newest episode of what is undoubtedly one of the top 3 shows on TV (behind "24" and "Lost"), but daaaayum. The last couple of episodes have been, you know, so-so. But Tuesday night's entry might have been the best hour of TV this year. No doubt. The double-shot (or could it be just a single??) of villainry from the Carver and Quentin Costa must be commended. And adding
Brittany Snow
as a racist girlfriend to Matt? Very uh huh. If you're not watching it, you're missing out.
p.s. This entry was specifically written just to be sounding board on who the damn Carver is. Let's track this dude/chick down, CSI-stizz.