Christmas time is near, have another beer...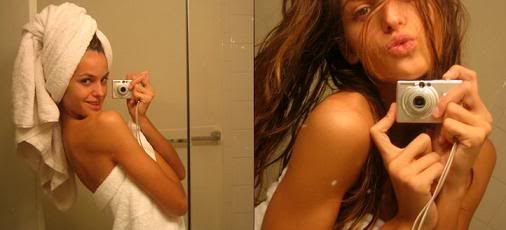 Without the above photo, the following entry by Izabel into
her journal
for the "Victoria's Secret Fashion Show" would have been ultra boring.
Shower
I woke up around 8am and took a shower. I said a prayer, thanking God and blessing him. I feel so lucky to be here, I almost have to pinch myself. It's hard to believe.
See? It's all about context. A sad story about how a beautiful supermodel pinches herself because she's lucky to take showers every day is only made more real, more touching and -dare i say - more sensual by the pictures of herself taking said shower. And she wrote "hard." Also good. Since the company Xmas party is tonight (see Open Bar), I'm Tivo-ing this along with "
A Charlie Brown Christmas
." God bless American television.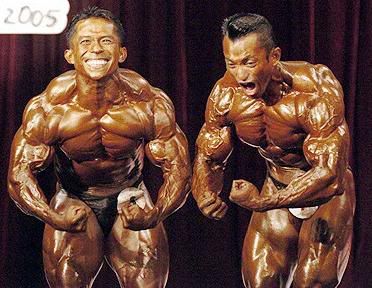 Meet "Steve" and "Tyrone." This picture has made me laugh at least a dozen times since someone sent me it yesterday afternoon. Again, with context, you could infer that Steve just won and Tyrone lost. So, to defend his honor, Tyrone flexed until he exploded his innards all over Steve's face. Or maybe they both won in a doubles competition and they're just ultra excited to get back to the hotel and take a candlelit bath together. We just don't know.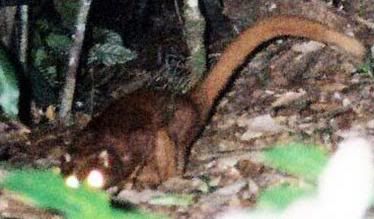 The media says this is a new kind of mammal found in Borneo. I say it looks more like a hairless cat with its head stuck in the ground. That Borneo Tourism Board is going to have to work a little harder than this.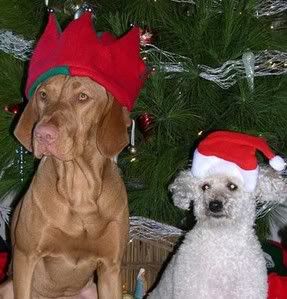 And here's some dogs with Christmas hats on. Just for "Mark."