Paris Hilton: not as full of shit as she was last week...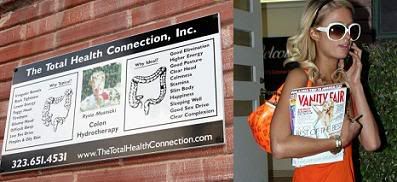 There ya go, Los Angeles.
If you want to take care of your poop like Paris Hilton takes care of her poop,
Total Health Connection
is the place. And if you mention during your 1st visit that you came after seeing this pic of Paris coming out of the office recently, they might give you something free. Like a toothbrush. Because that's what enemas do to you. They make you want to brush your teeth. Okay, I admit. I have no idea. But I do feel icky.
Coincidence of the day:
Paris gets enema ==>
Gets brown-nosed by record execs, cousin Perez