What happens in the urinals stays in the urinals...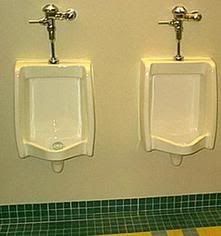 Except for when it's as freaky as what just happened to me. I was in our office floor's restroom doing my business when some random dude I've never seen before sidles up to the urinal two down from me. About five seconds in, he lets out the most ginormous fart I've ever heard inside a public restroom. Very gross, kinda wet sounding, but with intensity. Truth be told, I hadn't heard something this grotesque coming out of stalls. And this was standing up at a urinal.
So what did I do? I tried my best not to laugh. But the fact that you don't normally hear dudes tearing ass cheeks while they're standing up at the urinal (unless you're at the trough at a football game) made me lose it. And as I did, I looked sideways (breaking the unspoken dude rule of eyes straight ahead) and, I guess, gave him the WTF glance. Scariest thing? He looked like
T Bag
from "Prison Break." And what did he do? He stopped, zipped up and pointed at me as he was walking away. "Merry Christmas," he said. And he didn't wash his hands on the way out.
I will be 70 telling this story to my grandkids some day. I just know it.
p.s. Another dog wearing a hat. Xmas, this time.