At least the "Nip/Tuck" finale wasn't boring...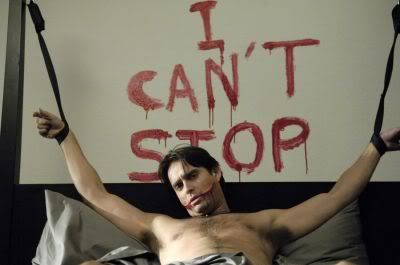 Okay. For those Tivo'ed it, I won't completely spoil what was essentially a pretty fun episode. Cheesy, yes. Predictable, in some aspects. But fun. A few spoiler-ish thoughts:
1) Thank God we finally figured out why Kit was the worst detective ever. She couldn't catch a cold if it introduced itself first.
2) Who else thought the tranny looked like an atrocious-looking vampire? And what was that cut around the top of her head? Very distracting...from her HIDEOUS FACE. No really. Ugly.
3) Where did freaky racist girlfriend go when her daddy started going AWOL? She just decided to go to McDonald's or something right in the middle of family peniscuttery hour. Cliffhanger #1.
4) Your penis is cut off. For some reason, you only scream bloody murder for a lil' bit. Then you have the strength to rise up from a grave like a vampire Michael Myers, swing a shovel AND shoot someone...without screaming more about your penis. Impossible. Even for a vampire. I call shenanigans.
6) He/she's a freakin tranny vampire. That's the only explanation.
7) There's nothing more hilarious than AIDS chicks trying to fool dudes into thinking they don't have AIDS for a little booty. He even thought about it for a split second. But I commend Christian for being nice and not bringing up the obvious answer, "Yeah, but aren't you a little AIDS-y?"
8) Julia has got to have a
Corky
in the oven. Cliffhanger #2.