My xmas tree would beat up your xmas tree...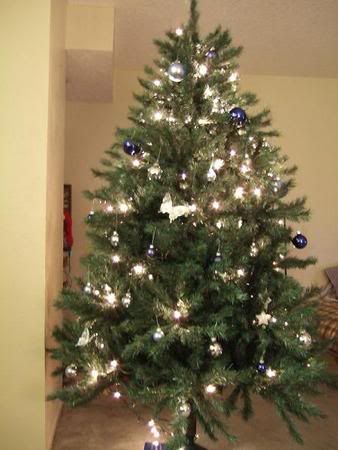 Facts about my Christmas tree (my first real honest to goodness one in over 7 years)
1) It's got blue balls.
2) It's got butterflies on it. Not my doing, but hey. Whatever.
2b) In my mind, those butterflies are mean as all hell. And they'll kick you in the face and cuss at you if you try to laugh at them.
3) Since the stand is all screwed up, a Harry Potter book (one of the unreasonably long ones) is holding up the tree from falling through the wall and, perhaps, into my neighbor's bathroom. Thank you, Harry Potter.
4) Its name, like everything inanimate in my apartment, is Steve.
5) It's about 7 foot tall. Yes, it can dunk.
6) Its lights blink really really fast and give me seizures.
Merry Xmas tree to all!