Thank you for playing, Monica Keena...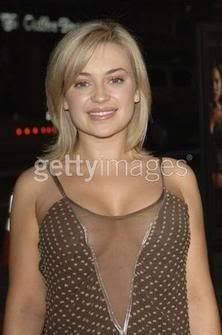 I remember having a semi-crush on
Monica Keena
when she played the villainous (and Jack Daniels-loving) Abby Morgan on "Dawsom's Creek" circa 1998.
Then her character got drunk, fell off a pier, hit her head and died. DIED! That's how she died. Ranked right up there on the huh-o-meter with the Cowboy Scott "90210" death but hurt a lot more because she was a hot female instead of a goofy guy who was just glad Brandon Walsh knew his name AND came to his bday party.
Anyways, I see her boobs through her Forever 21 blouse that she wore to the Bloodrayne (oh god why) premiere last night and that's all I could think of (instead, oddly, of boobs).*
Death by pier diving. Such a sad waste.
*I really have no idea if this blouse was purchased there. I just threw out the L.A. clothing store that first came to my mind. I've also never been forced in that place against my will. I promise.
p.s. When the Getty Images watermark doesn't fully shield the breast region, I get a certain comfort. I know this is sad but give me that one thing.